Meet the Program Committee for COMSOL Conference Rotterdam 2013
I have attended many conferences during my career, but until this year I have never been on the organizing side of the equation. Admittedly, I'm enjoying my new role as Program Chair immensely. With the help of my colleagues from all of the European COMSOL offices, I've put together the program committee for the COMSOL Conference Rotterdam 2013. Now it's time for you to find out who they are.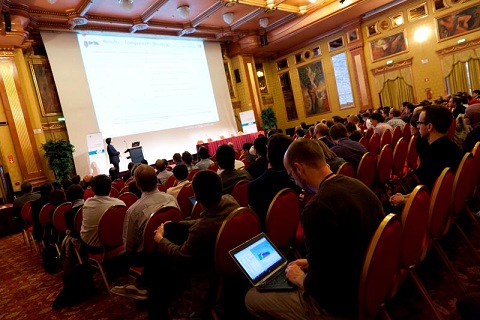 The Program Committee for the COMSOL Conference Rotterdam 2013
The members of the committee have been selected not only based on their track record in their fields of expertise, but also based on their experience with COMSOL Multiphysics. Some of them have been users and fans of COMSOL for many years. They've been using the software for research (in some cases very fundamental), teaching, and simulating real-world problems for developing exciting new products.
Program committee member Prof. Philip Binning from DTU, Denmark wrote to me: "I am happy to help with the conference — I am a heavy user of COMSOL, so it is good for me to see what is going on." I am sure that all the other program committee members are as enthusiastic about COMSOL Multiphysics as he is.
The members of the committee will be involved in both reviewing the submitted abstracts and papers, and voting for the winning submissions. By having this group of experts look over all of the work, we can ensure top-quality presentations and a great experience for everyone at the user's conference. I'm very happy to now present you with the program committee for the COMSOL Conference Rotterdam 2013:
Andreas Lawall, Siemens AG, Germany
Capucine Lardinois, Advanced Coatings & Construction Solutions (ArcelorMittal), Belgium
Chris Brown, Sharp Laboratories of Europe, UK
Erik Spaan, NXP Semiconductors, Netherlands
Fabio Ferrero, BAM Bundesanstalt für Materialforschung und -prüfung, Germany
Guido Blöcher, Helmholtz Centre Potsdam GFZ German Research Centre for Geosciences, Germany
Jos van Schijndel, Eindhoven University of Technology, Netherlands
Kjetil Folgerø, CMR, Norway
Lucia Zullino, STMicroelectonics, Italy
Marco Barink, TNO, Netherlands
Marco Miliani, Medtronic Invatec, Italy
Martial Rousseau, B&W Group Ltd., UK
Martin Karlsson, ÅF Consulting, Sweden
Massimo Bechis, Prysmian SpA, Italy
Philip John Binning, DTU, Denmark
Pierre Charon, Airbus France, France
Robert Low, Mexichem Fluor, UK
Roberto Santoprete, L'Oreal, France
Simon Stingelin, Endress+Hauser Flowtec AG, Switzerland
Let Us Know What YOU Are Doing
The program committee members have themselves been doing fascinating and inspiring work with COMSOL, so I bet they're just as curious as I am to see what you have been working on. Let us know by submitting your abstract for the multiphysics user's conference, and have it reviewed by the experts.
I hope to see you in Rotterdam!
---
---
|
© 2017 by COMSOL Inc. All rights reserved