Registration Open: COMSOL Conference 2013
In February we asked you to mark your calendars for the COMSOL Conference 2013. Now I would like to let you know that registration is open, as well as share some important deadlines of this great event with you. The COMSOL Conference 2013 is moving across the world, making stops in the U.S., Europe, and Asia — will we see you there?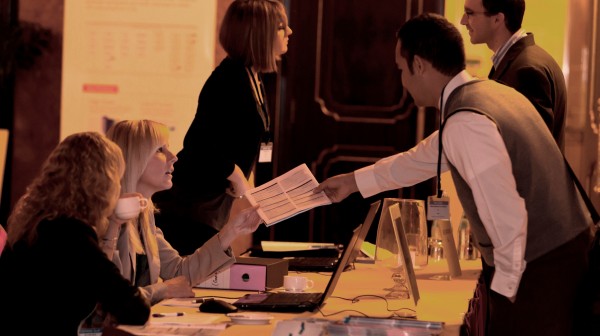 Introducing the Conference Registrars
First of all, allow me to introduce myself. This year, I will organize the COMSOL Conference Rotterdam 2013, our stop in Europe. I am very excited and honored to serve as the registrar for the European location, and will make sure this turns out to be a great event.
I would also like to introduce your contacts for the Boston, MA and Bangalore, India locations: my colleagues Kristen O'Connor and Ajay S S, respectively.
What to Look Forward to at the COMSOL Conference 2013
The COMSOL Conference is the place to be for getting the most out of your simulation work and connecting with fellow COMSOL Multiphysics users. The conference is packed with learning opportunities that are suitable for anyone interested in multiphysics simulation. The program we're preparing for you will offer hands-on minicourses, panel discussions, user presentations, and networking events. (These are to be discussed in further detail in future blog posts, so check back soon!)
Here are the major dates you need to know in preparation of the COMSOL Conference 2013:
Boston
October 9-11
Bangalore
October 17-18
Rotterdam
October 23-25
Early bird abstract submission deadline
Jun 21
Jun 28
Jul 5
Final abstract submission deadline
Aug 2
Aug 2
Aug 23
Abstract approval notification
Aug 16
Aug 8
Aug 30
Paper* and Poster submission deadline,
Author registration deadline
Sep 13
Sep 13
Sep 27
Savings Deadline
Sep 13
Sep 13
Sep 27
Hotel Savings Deadline
Sep 18
Details and registration can be found at the conference page for your location:
For those of you who are looking to save on your registration fee I'd like to highlight our savings deadline. Register before the dates specified above to take advantage of the savings.
---
---
|
© 2017 by COMSOL Inc. All rights reserved